April 2024 (upcoming) – ELTS is proud to sponsor our first-ever Color Vowel Conference for English Language Educators, to be held April 5-6, 2024 at Planet Word in Washington DC. The conference serves to gather 140 English language educators from around the world to explore the interrelated topics of instructional excellence, mutual comprehensibility, and accent equity.
July 2020 – Rebranded! We are still English Language Training Solutions, but our website and logo have been updated to highlight Color Vowel®. Welcome!

May 2020 – Karen Taylor has been named winner in the Visionary Leadership category of the 2020 Ed Tech Awards for developing the Blue Canoe pronunciation mobile app, the only language-learning program that marries the power of Artificial Intelligence with a brain-based methodology that has proven success in the classroom.



April 2020 – Our latest run of Color it out! (5th Edition) is now in stock! With updated images and enhanced word pairings on each card, Color it out! supports compelling pronunciation and reading practice.

March 2020 – In response to teachers' emerging need for educational tech support during the COVID-19 pandemic era, Color Vowel® has launched a new weekly webinar series, Fridays At Five. This live weekly event is free and open to the public.


March 2019 – In celebration of its 20th anniversary, the Chart has a new look! The 5th Edition Color Vowel Chart reflects recent innovations in our pronunciation app, Blue Canoe, and provides teachers and learners with a single, accent-inclusive Chart that supports teachers and learners more than ever!

February 2018 – The Color Vowel Launch Pad provides teachers with an easy, effective way to introduce students to the Color Vowel Chart. Created, piloted, and refined by practicing teachers, the Color Vowel Launch Pad is a 50-page tear-off pad of Launch Pad handouts: full color, three-hole punched, and ready to go.

October 26, 2017 – Our sister company, Blue Canoe, today announced it has raised an initial $1.4M investment from Kernel Labs and others, and has been accepted as the first company in the Allen Institute for Artificial Intelligence (AI2)'s new incubator program. Blue Canoe Learning is exclusively licensed by ELTS to digitize the Color Vowel system in apps for mobile learning. Learn more in these articles by GeekWire and Techcrunch.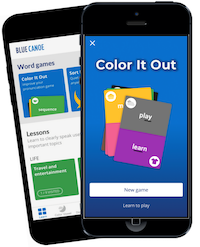 November 2016 – ELTS is proud to announce its partnership with Blue Canoe Learning, a tech start-up based in Bellevue, WA. ELTS and Blue Canoe are working together to create innovative game-based pronunciation apps powered by voice recognition and machine learning.

October 2016 – Our second annual phonological awareness retreat was so much fun! Sound Awareness 2016 brought together 14 educators from 5 U.S. states and Japan. Highlights from our three days together included connecting music to phonological awareness, doing Color Vowel Yoga, and a special lecture by Dr. Robin Barr on the topic of regional accent variation.

June 2016 – Our professionally manufactured pronunciation card game is now ready! What we originally named "Color Vowel Duo" has been re-branded as Color it Out!™, and it is now available on in our shop.

April 2016 – With the help of over 300 friends and fans, we surpassed our Kickstarter crowd-funding goal of $37,000. These funds enabled ELTS to professionally manufacture our revolutionary pronunciation card game, Color it out!, for large-scale distribution while also covering legal costs associated with patent and trademark applications.

March 2016 – A new and expanded edition of our book is ready! Newly titled The Color Vowel Approach, this essential guide contains new lesson plans and sections on teaching grammar, vocabulary, and spelling.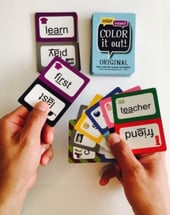 August 2015 – We've updated the COLOR VOWEL® Chart with a sleek new design! Our new 4th Edition posters and binder inserts feature rounded lines that mirror the vocal tract while conveying the continuum of sound we produce when we speak.

June 2015 – We held our first annual Sound Awareness Retreat. Twelve educators from across the U.S. joined us in Santa Fe NM for three glorious days of phonological awareness training, technique practice, vowel painting, and other fun. We can't wait to do it again next year!

May 2015 – Our own Karen Taylor de Caballero is TESOL's official blogger on pronunciation, speech and listening. Read her posts here.

February 2015 – We're proud to announce our new literacy/pronunciation game, COLOR VOWEL®Duo. This innovative card game engages native and non-native speakers of all ages while reinforcing reading and pronunciation skills. It is a must-have for every classroom and every game-loving family.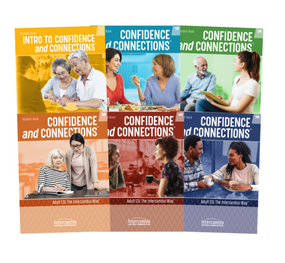 January 2015 – We now hold regular Q&A's on our Facebook page. Ask questions about the COLOR VOWEL® Chart and listen to answers in a friendly casual setting.

December 2014 – The COLOR VOWEL® Chart is proud to be featured in Interactive English (re-titled Confidence and Connections in 2020), a 12-level Adult ESL textbook series published by Intercambio Uniting Communities. Learn more.

Spring 2013 – ELTS is thrilled to announce its partnership with the U.S. Department of State, which will produce and distribute laminated copies of the COLOR VOWEL® Chart outside the United States for use by teachers of English around the world.